ROEE ROSEN
OUT (TSE)
Filmscreening
.
.
30 Oct - 16 Nov 2013
Tue - Fri   2 - 6 pm
Sat    12 - 4 pm
.
.
.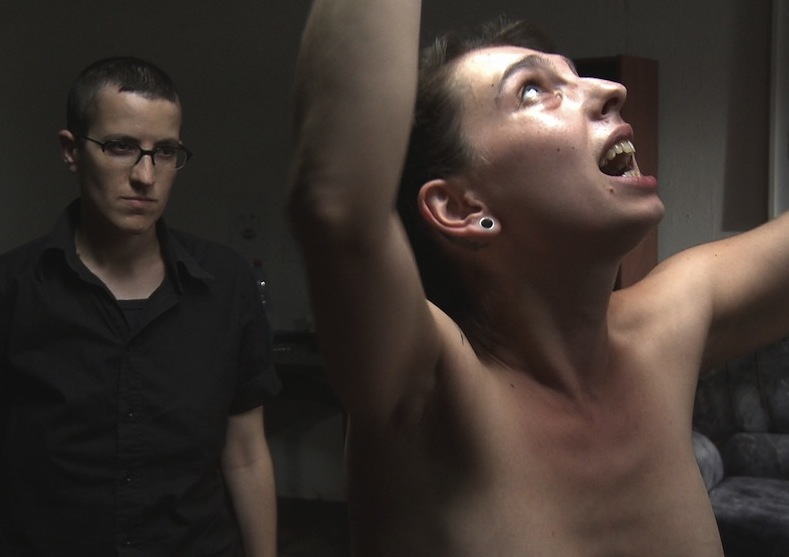 .
.
Der vielfach ausgezeichnete Film »Out (Tse)« des israelischen Künstlers Roee Rosen beginnt
als
Dokumentation
mit den Interviews zweier Frauen über ihre Erfahrungen in der Sado-Maso-Szene
Israels und geht dann in eine
radikale, erotische Handlung über. Anleihen aus dem Horrorfilmgenre
durchsetzen die Szene und machen den
Film durch wörtliche Zitate des rechten Hetzers
Avigdor
Lieberman, bis vor wenigen Monaten Außenminister
Israels, zu einem hochpolitischen
Statement.
Unter anderem wurde »Out (Tse)« auf der Biennale in Venedig als bester Film (in der Kategorie
»Halblanger Film«) ausgezeichnet.
Bei den Internationalen Kurzfilmtagen in Oberhausen erhielt
.
2011 zeigten wir in unserer Ausstellung Vier Filme aus Oberhausen seinen Film "Hilarious" .
.
.
The award-winning film Out (Tse) by the Israeli artist Roee Rosen begins as a documentary when
two women are interviewed about their experiences in the Israeli sadomasochist scene, after
which the film changes into a radically erotic plot. Influences from the horror film genre prevail
throughout the scene.  Through the use of quotations by the right-wing agitator Avigdor Lieberman,
foreign minister of Israel until just a few months ago, the film becomes an explosive political statement.
.
Among others, Out (Tse) won the best film award at the Venice Biennial film festival in the
"Medium-length Film" category.
At the International Short Film Festival Oberhausen the film received the ARTE Prize.