BERNHARD SCHREINER
Application to Waves
12 Sep - 15 Nov 2014
.
.
Artist Talk
Tuesday  21 Oct 2014  7 pm
.
.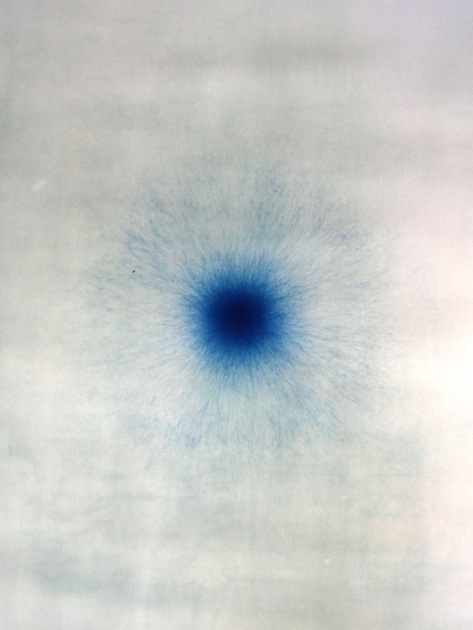 .
.
Der Garten des Städelmuseums war für einen Monat – bis zum 31. August – Spielort der von Bernhard Schreiner und Alan B. Brock-Richmond geschaffenen Soundinstallation The Encryption Garden. Um akustische Wellen kreist auch seine dritte Einzelausstellung in unserer Galerie mit dem Titel Application to Waves. Sie zeigt Papierarbeiten, Plastiken und eine Videoarbeit. Die experimentellen, kameralos erstellten Lichtbilder auf Papier (Cyanotypien) der Serie Heterodyne beispielsweise wirken in ihrer Anmutung wie riesige Aquarelle. Die feinen, intensiv-blauen Linien und Kreise, gehen aber auf Lichteinwirkungen zurück. Eine Lampe (Laser-Pointer) kreiste in der Dunkelkammer mehrere Stunden lang über dem lichtempfindlichen Papier. Die Impulse für die wundersamen Kreisbewegungen empfing der Laser-Pointer vom Rhythmus einer Lautsprecher-Membran. Jedem Blatt der Serie liegt dabei eine jeweils andere Frequenz zugrunde, was zu ganz unterschiedlichen Bildern führt.
Der renommierte Kunstraum in München zeigt vom 24. September an in einer Einzelausstellung neue Soundarbeiten von Bernhard Schreiner.
.
.
Numen from Bernhard Schreiner on Vimeo.
Frankfurter Allgemeine Zeitung - Ausstellungsbesprechung
Frankfurter Allgemeine Zeitung - Klanginstallation im Garten des Städels
.
The garden of the Städel Museum was the venue for one month, until 31 August, for the sound installationThe Encryption Garden by Bernhard Schreiner and Alan B. Brock-Richmond. Acoustic waves are the focus too of Schreiner's third solo exhibition in our gallery, titled Application to Waves. Works in paper, sculpture and video will be presented. Created without the use of a camera, the experimental photography (cyanotypes) series Heterodyne, for example, brings to mind large watercolours. However, the fine, intensely blue lines and circles originate from the effects of light. A laser pointer circled in the dark for several hours over the photosensitive paper. The impulse for the extraordinary circular motions came from the rhythm of a speaker diaphragm projected onto the laser pointer. Each sheet of the series represents a correspondingly different frequency basis, resulting in quite distinctive imagery.

From 24 September, the renowned Kunstraum in Munich will be showing a solo exhibition of new sound works by Bernhard Schreiner.
.
Biography  Bernhard Schreiner  >>
.
.
The Enrcryption Garden – Städel Garten IV
Soundinstallation  (solo / with Alan B. Brock-Richmond)
22 Jul - 31 Aug 2014
further information / images   >>
.
.
.
.
Wed-Fri  2 - 6 pm
Sat  12 am - 4 pm
Sun-Tue by appointment
.
.