BERNHARD SCHREINER
MR. KEV MOON
20. Jun – 24. Aug 2019
.
.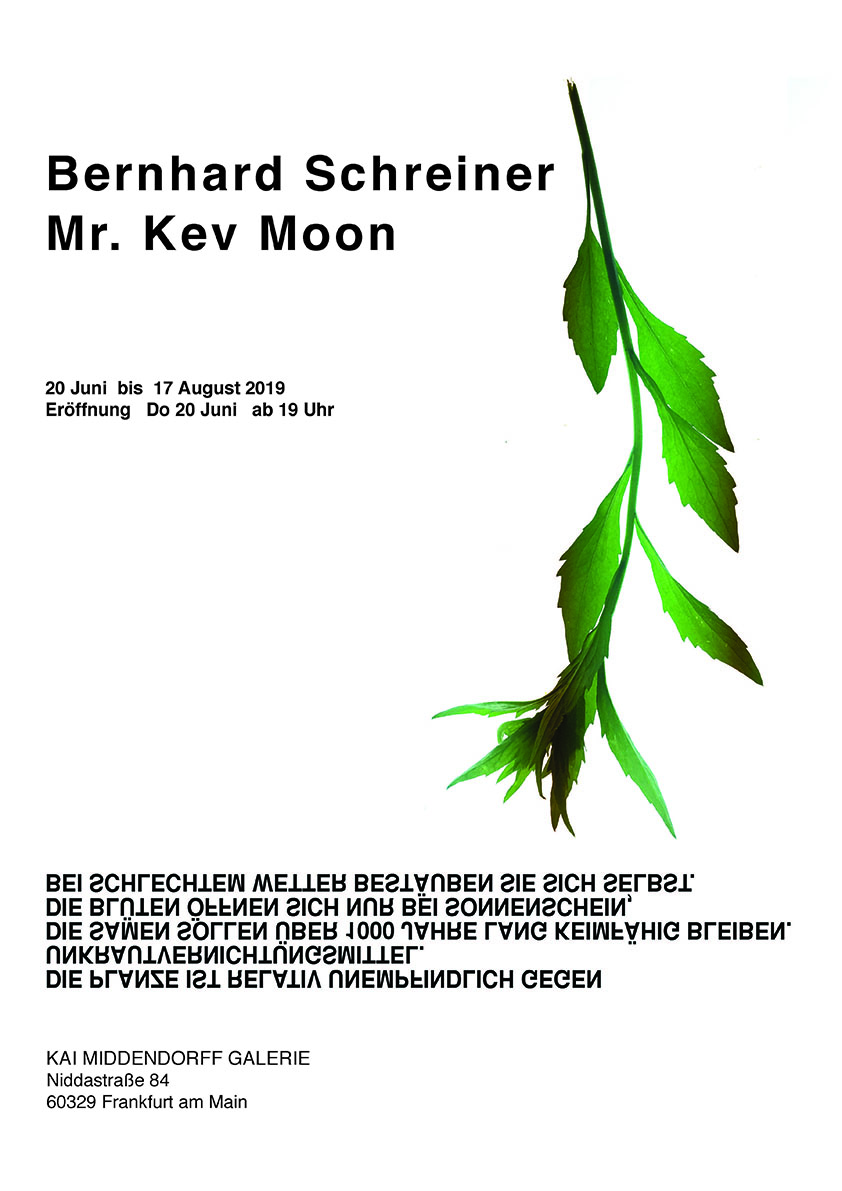 .
.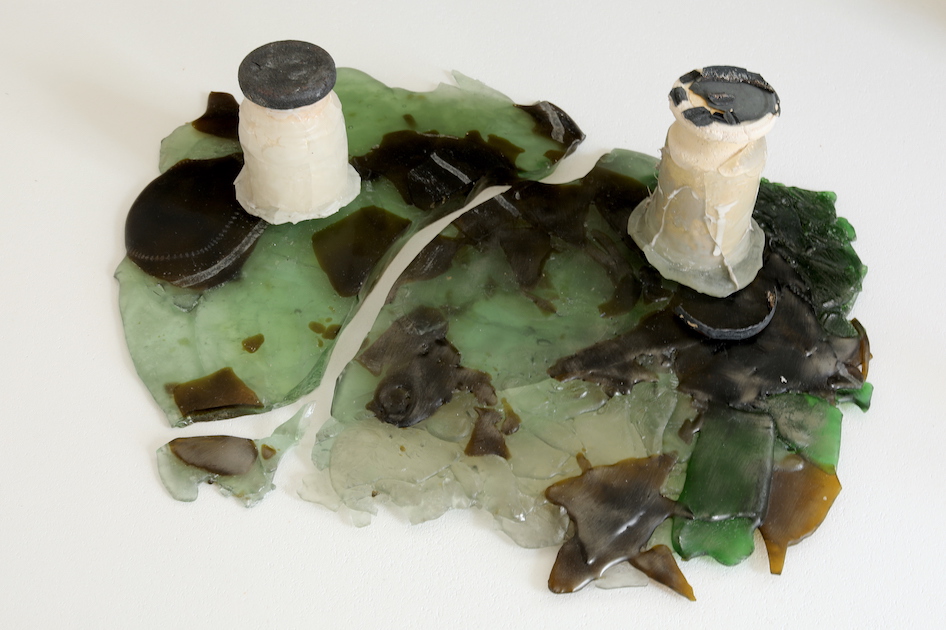 .
.
.
.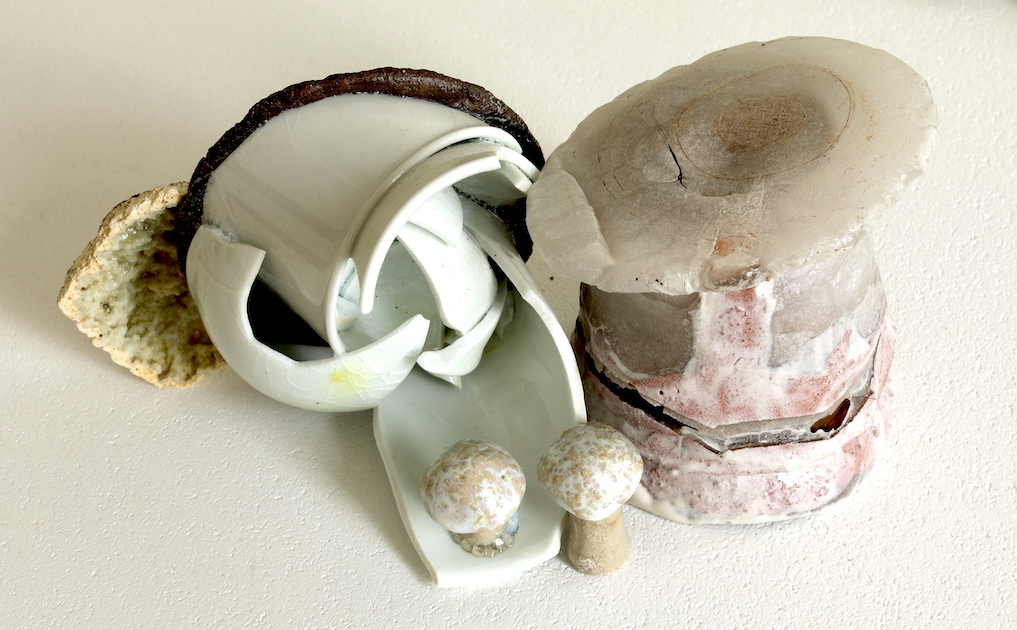 .
.
.
.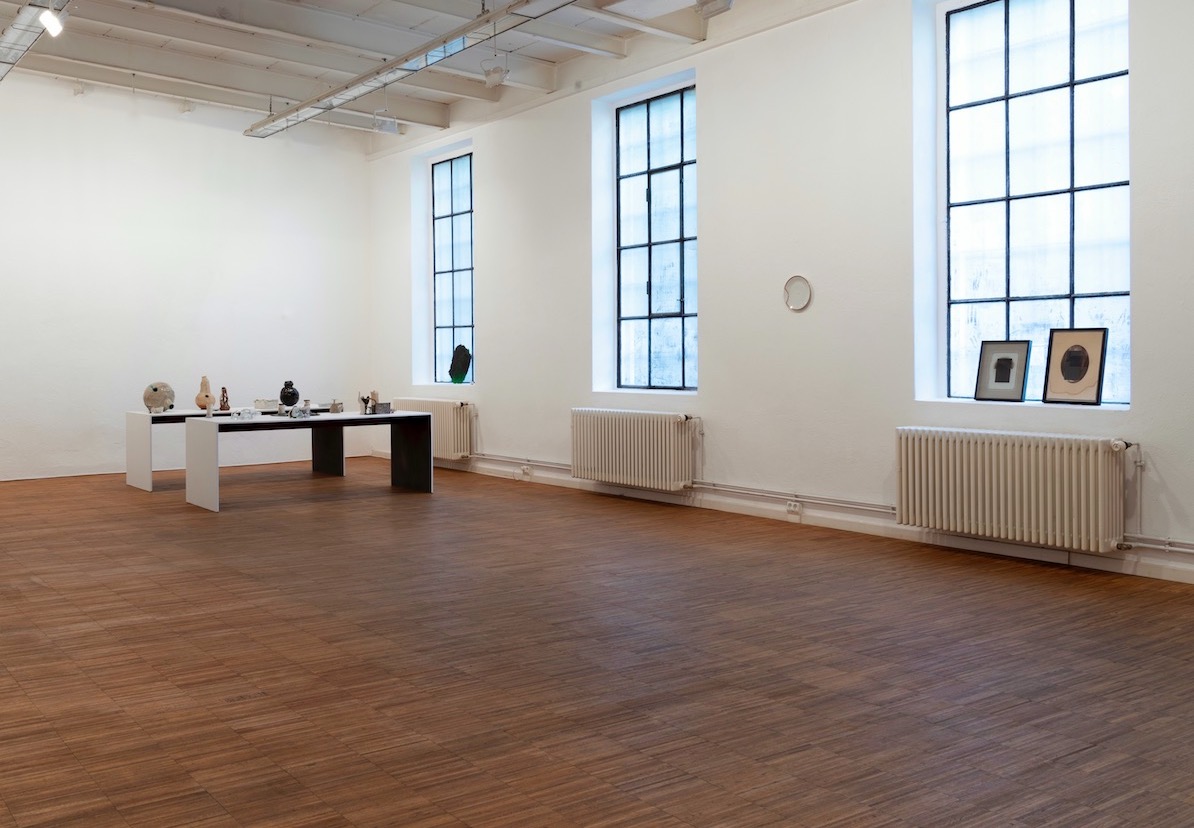 .
.
.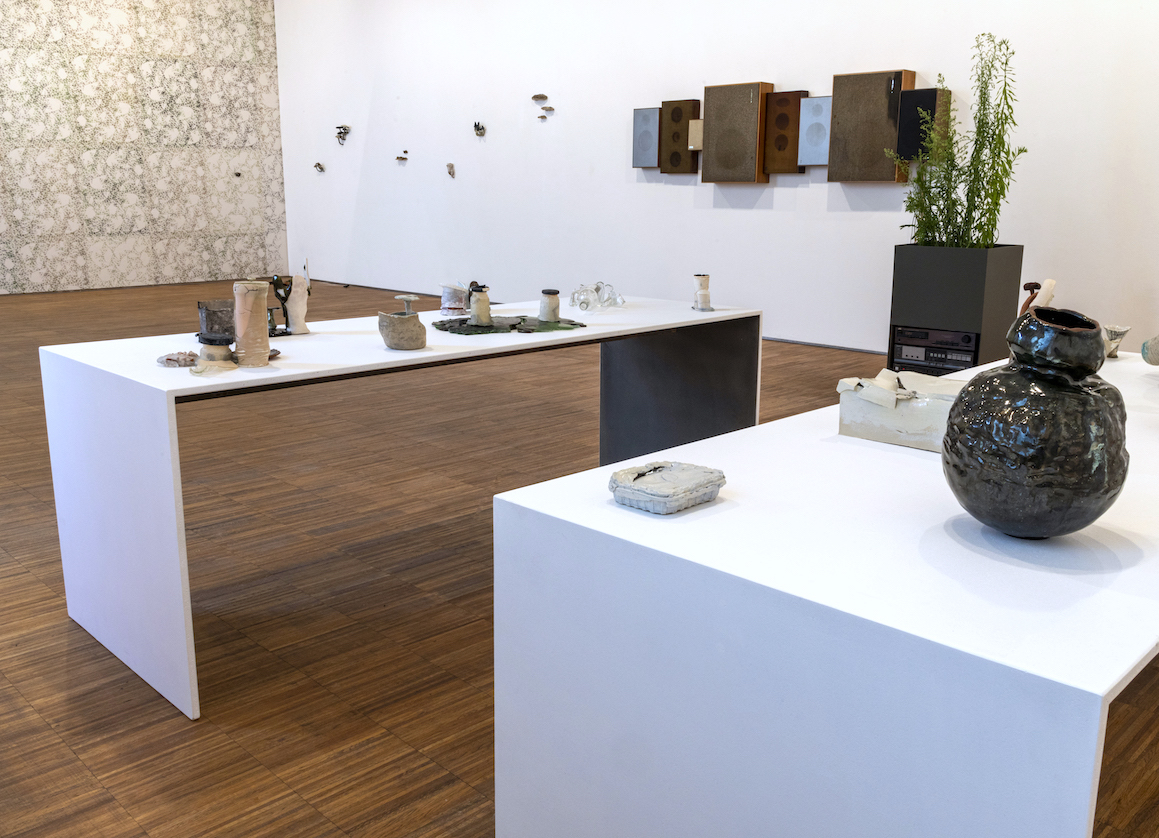 .
.
.
.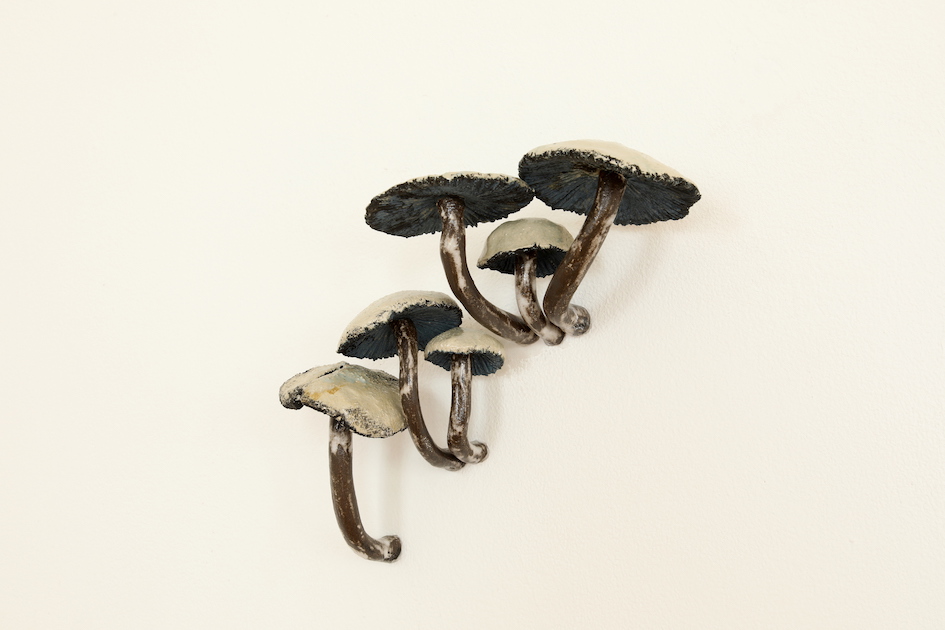 .
.
.
Frankfurter Allgemeine Zeitung, Kunstmarkt, 13. 7. 2019
.
.
.
Mr. Kev Moon könnte der Titel einer Ausstellung von Bernhard Schreiner sein. Es könnte sich aber auch um einen Mitstreiter handeln, eine Person die eigene Werke neben denen Schreiners zeigen wird. Oder um einen Kollaborateur? Bekommen wir Gemeinschaftsarbeiten von Schreiner und Mr. Kev Moon zu sehen? Eine Arbeit in der Ausstellung trägt den Titel: Vorkommen (invasive/indigenous) Mr. Kev Moon und der Begriff Vorkommen beinhalten die gleichen und die gleiche Anzahl an Buchstaben. Ein Anagramm! Ein Hinweis? Die Arbeiten die in dieser Ausstellung "vorkommen" mögen zunächst heterogen erscheinen: eine vegetabile Tapete, ein Wandrelief aus Lautsprechern, Klang, Pflanzen, keramische Objekte, Glas, Holz, Wachs, (Verpackungs-)Müll, scheinbar unfertiges, vermeintlich Kaputtes oder "falsch" Repariertes – doch lassen sich Verbindungslinien beobachten (zumindest hoffen die Künstler darauf, solche sichtbar/hörbar zu machen).
Glyphosat, resistente Superweeds, invasive Arten, Pilze – oder "nur" Keramik oder Steine oder Wachs? Welches Material kann noch was? Ist das kaputt oder soll das so? Wer geht mit in den Wald? Oder hört sich ein Stück an (Musik)? Könnte so eine Kommunikation klingen zwischen Pflanzen, Pilzen – und uns? Befinden wir uns in einem ökologischen Diskurs (das kann nicht alles sein!?), oder in jemandes Wohnzimmer? Eventuell in einer Art Modell eines möglichen Zimmers, bewohnt von Einheimischen und Zugewanderten, von "Cosmopolitan Agricultural Weeds" und Pilzen, die schon längst ausgestorben sind. Und irgendwer stapelt wohl seinen Fast-Food-Plastikmüll in der Ecke.
Mr. Kev Moon could be the title of an exhibition by Bernhard Schreiner. However, it could also be about a comrade-in-arms, a person who is showing his own works next to those of Schreiner. Or a collaborator? Do we get to see joint works by Schreiner and Mr. Kev Moon? One work in the exhibition is titled Vorkommen (invasive/indigenous). Mr. Kev Moon and the term Vorkommen (meaning "occurrence") contains the same letters in exactly the same number. An anagram! A hint? The works that "occur" in this exhibition may at first seem heterogeneous: a wallpaper displaying plants, a wall relief made up of loudspeakers, sound, plants, ceramic objects, glass, wood, wax, rubbish packaging, seemingly unfinished, supposedly broken, or "wrongly" repaired—but certain links can be observed (at least the artists hope to make them visible/audible). Glyphosate, resistant superweeds, invasive species, fungi—or "just" ceramics or stones or wax? Which material can still do what? Is it broken or is it supposed to be like this? Who will come with into the forest? Or listen to a piece (music)? Could such communication involve sound between plants, fungi—and us? Do we find ourselves engaged in ecological discourse (this can't be everything?), or in someone's living room? Maybe in a kind of model of a possible room, inhabited by locals and those who've just wandered in, by "cosmopolitan agricultural weeds" and mushrooms that have long since died out. And someone seems to stack his fast food plastic rubbish in the corner.
.
.
.
.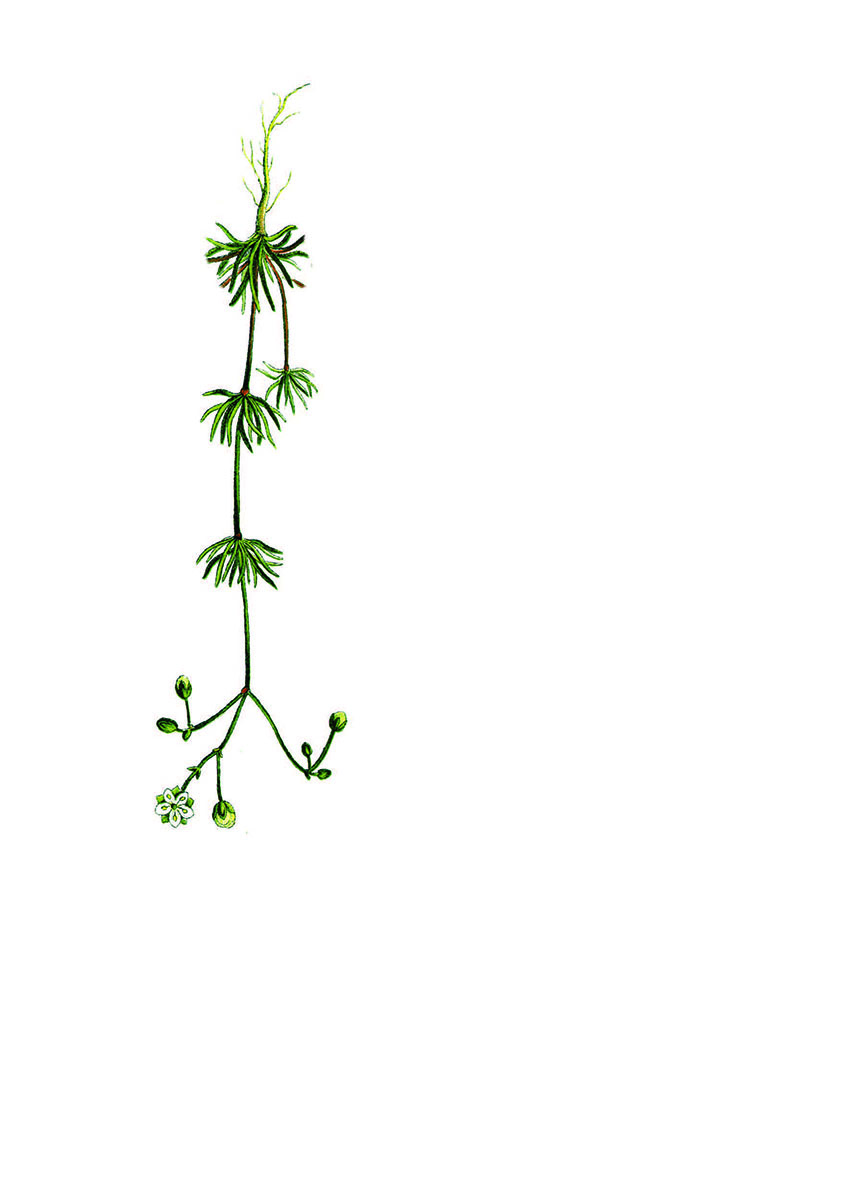 .
KAI MIDDENDORFF GALERIE
Niddastraße 84
Halle im Hof
60329 Frankfurt am Main
Mi – Fr  14 – 18.30 Uhr  Sa 11.30 – 16 Uhr
.
.
.